Read our latest news articles
TIME FOR A "HEART" TRANSPLANT FOR THE COMBIDRIVE MOUSE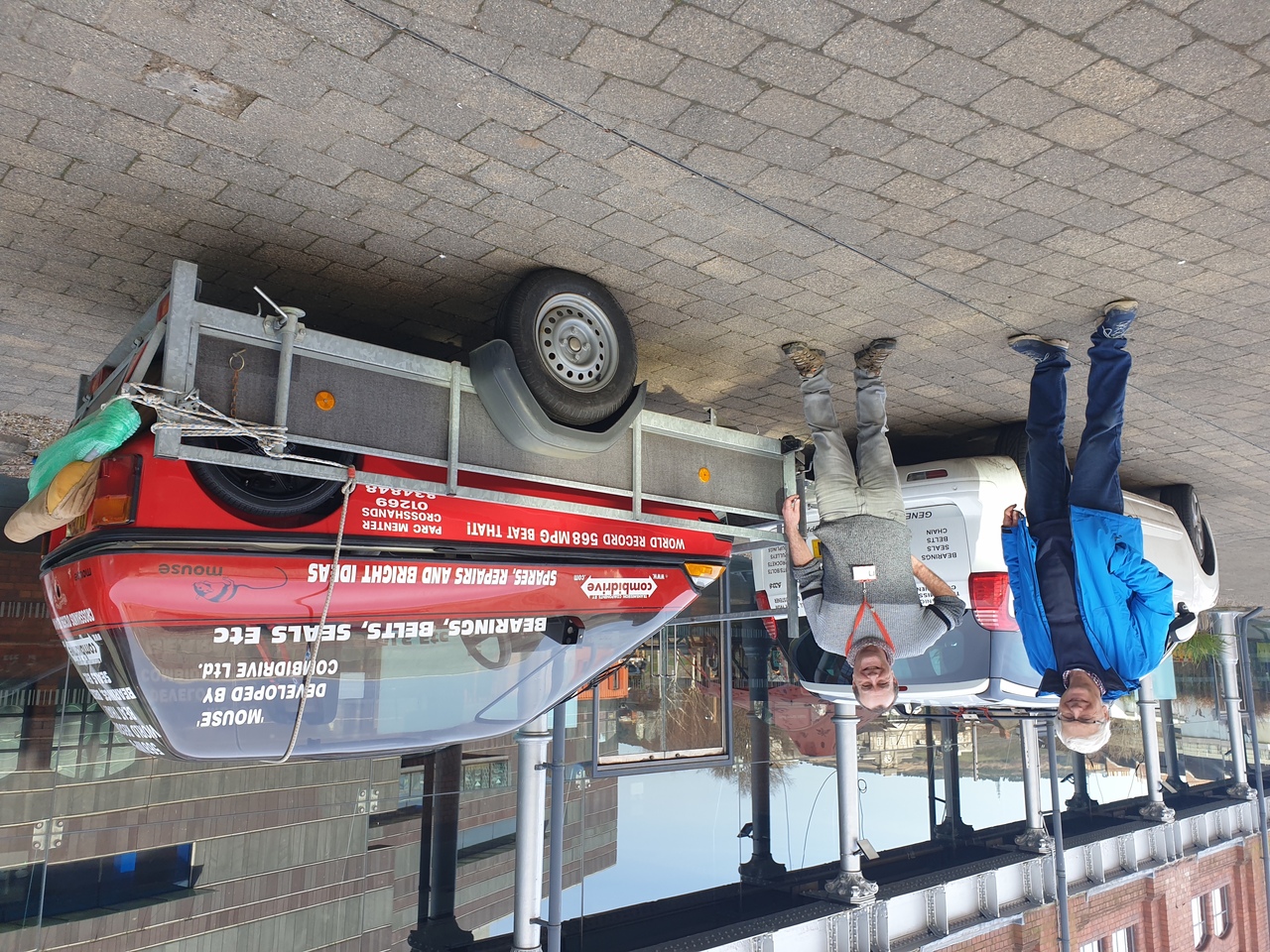 The shortcomings of the Danish City EL electric car (from 1987) were soon clear to us after we tried to promote sales in Wales with a demonstrator vehicle. The range was very limited by the combination of 3 tractor sized lead acid batteries and plenty of hills which are non existent in Denmark! Everything else about the vehicle was "healthy" so we transplanted a diesel engine in place of the electric transmission. We renamed the car "Mouse", achieved a world record of 568mpg during the 1996 Shell Mileage Marathon and subsequently achieved 255mpg in 1998 on public roads with "AA" observers.
The Mouse was road tested by Steve Berry from Top Gear in 2008 (see "Mouse on Top Gear" Utube). In later years the car was placed at Swansea Waterside Museum with the enthusiastic assistance of Curator Ian Smith (shown on the right). Now the Mouse deserves an electric transplant with improved batteries capable of much greater distances between charges. Perhaps pick up another world record along the way!
COMBIDRIVE BRAKES WIND IN CANARY WHARF
An overspeed brake was required to prevent the rotating part of the sculpture being driven by wind at more than
around 30rpm for safety reasons.
Combidrive produced a control which comprised a Suco centrifugal brake driven by a speed increasing two stage helical
gear head. The gear head was required to increase the brake speed from 30rpm to several hundred rpm in order for the
brake to function effectively.
With kind permission of Helena Doyle, Tom Cherry Engineering, Simon Carroll - Temple Set Design and Sean Pollock
Photography, Summer Lights 2021, Canary Wharf Artists + Events.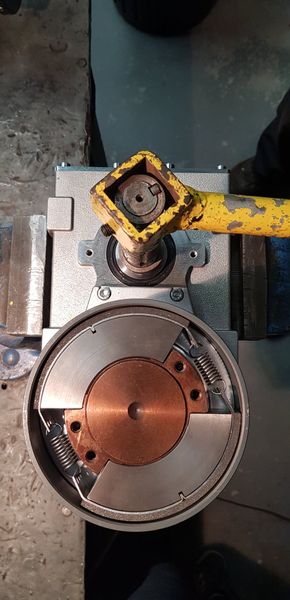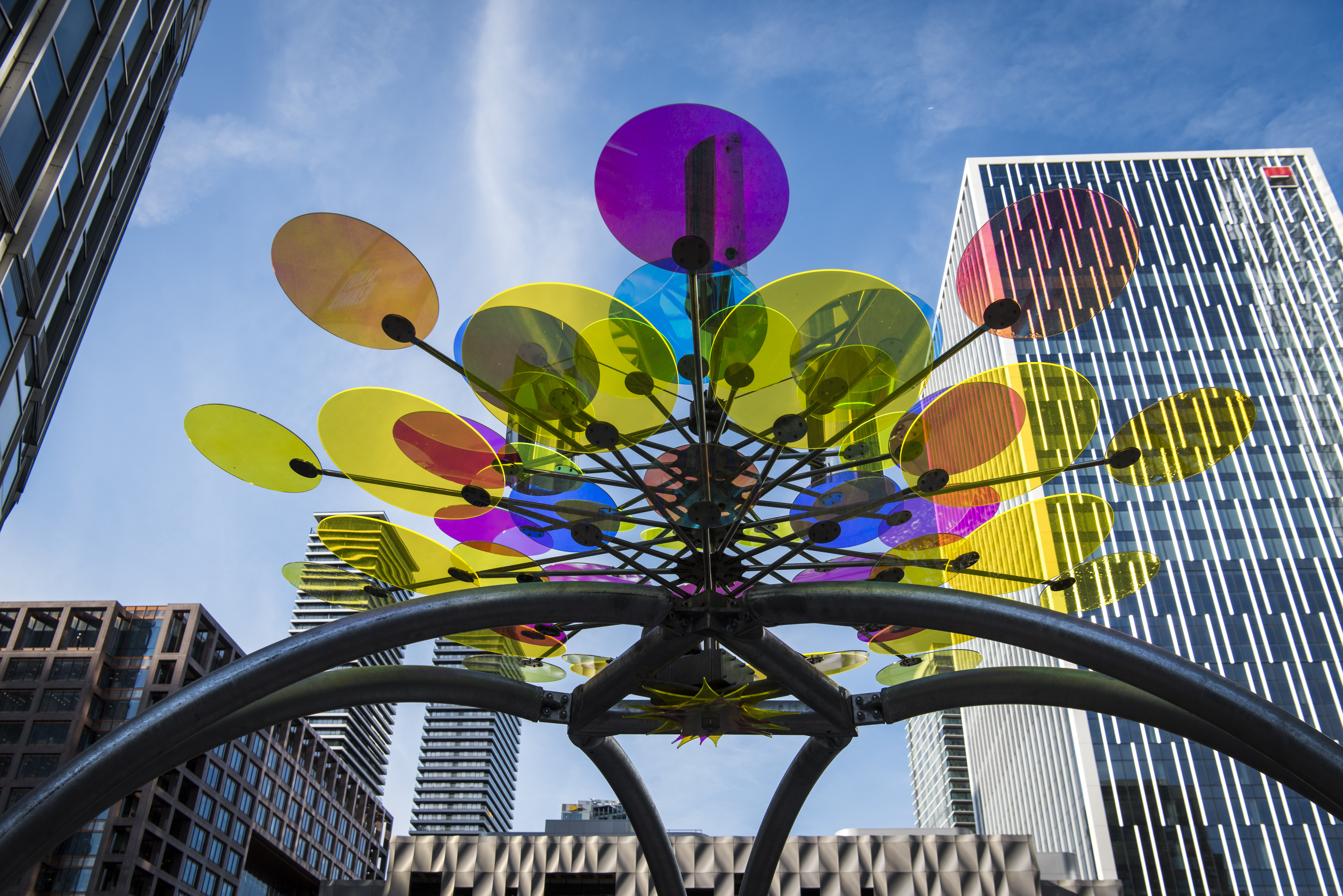 COMBIDRIVE CELEBRATES 45 YEARS IN BUSINESS!
2020 has been a challenging year in business and for many of us personally too but it has also
given us a reason to stop for a moment to reflect and celebrate the past 45 years in business!

Here's to many more!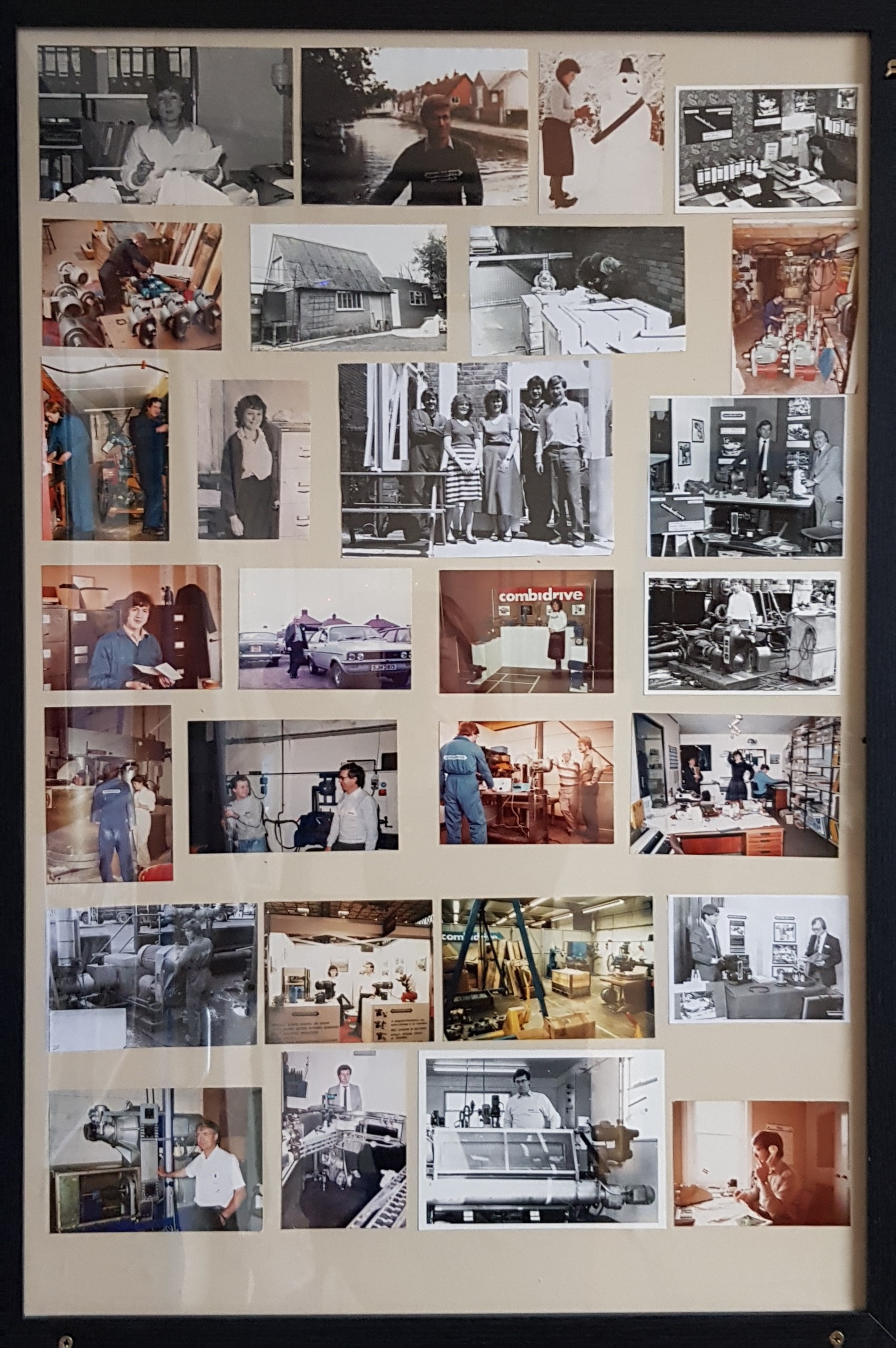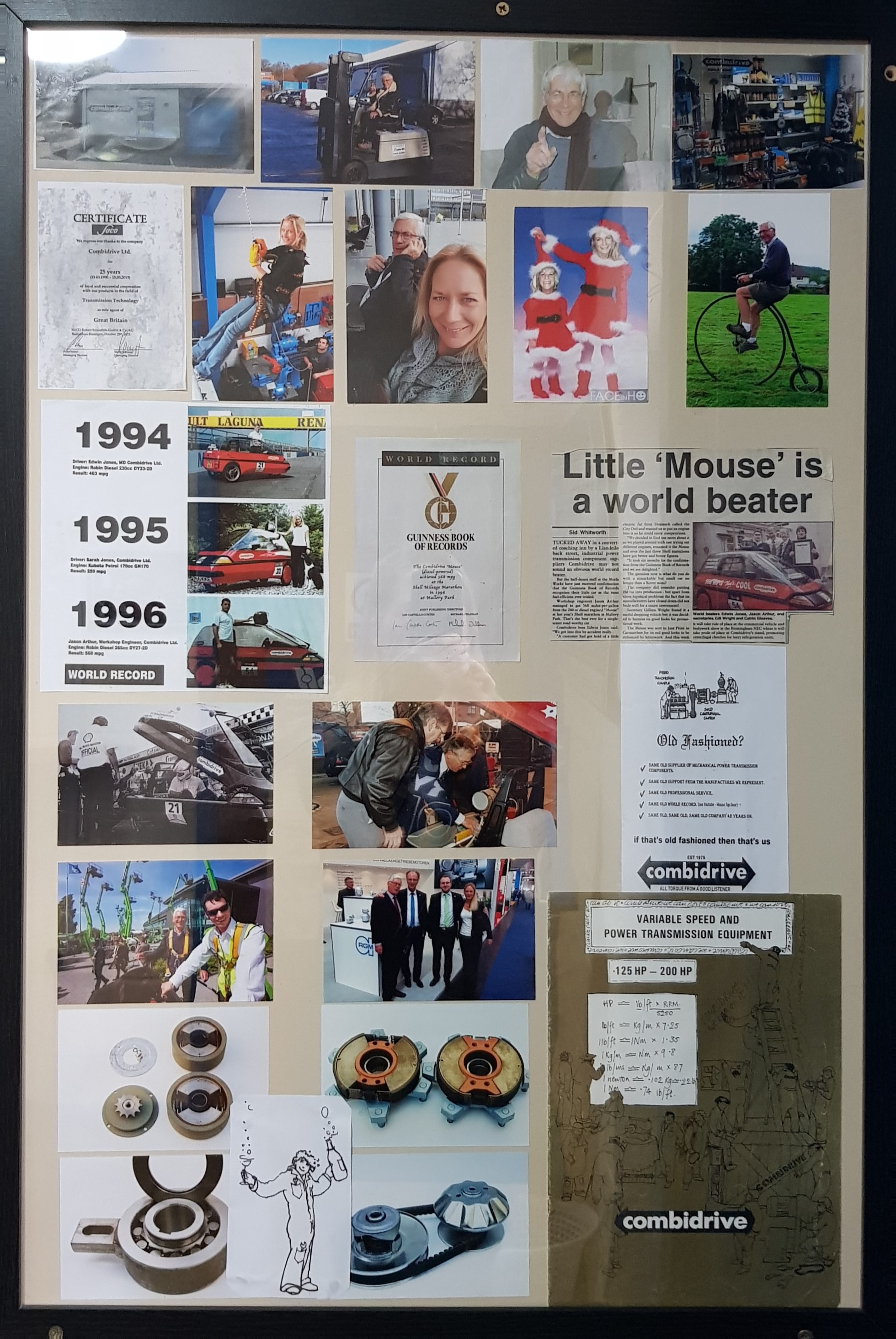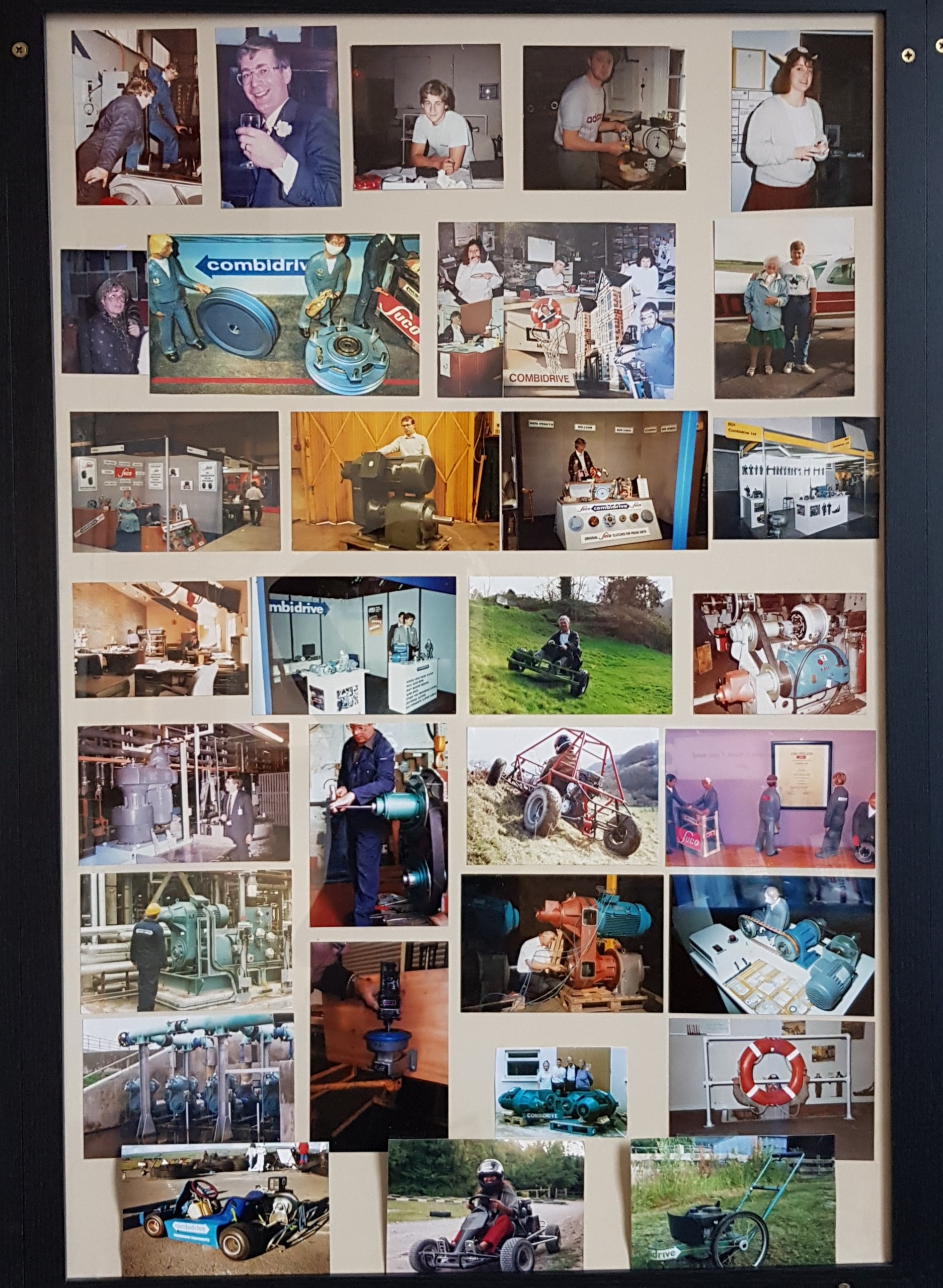 CENTRIFUGAL CLUTCHES/BRAKES- PRINCIPLE OF OPERATION
ELECTRICALLY CONTROLLED CENTRIFUGAL BRAKE
GENERAL OPERATION
The electrically controlled centrifugal brake provides braking speeds below the normal operating speed of an electric motor drive system.
DESIGN & FUNCTION
The electrically controlled centrifugal brake is connected to the motor shaft (2). Under normal operating conditions, power is supplied to the spring loaded electrical brake (7). The electric brake disc (6) is connected to the centrifugal brake drum (5). Both are free to rotate together with the flyweights (3) and the hub (1) without providing a braking torque, whilst current is applied.
Without electrical current, the brake disc (6) and the centrifugal brake drum (5) is locked, by spring pressure.
When the engagement speed of the centrifugal brake is reached, the springs (4) allow the flyweights (3) to engage with the drum. This causes a soft braking action at speeds below the normal operating speed.
By changing the springs (4), the centrifugal brake engagement speed can be adjusted.
As soon as electrical power is reapplied to the motor and the electric brake, the drive system returns to normal operating conditions.
APPLICATION EXAMPLES
Reducing the descent speed of the elevator system or hoist during a power cut to 50%-60% of the normal operating speed.
Switching off the centrifugal brake to test the ultimate stop brake in the elevator system.
Please do not hesitate to contact us with your enquiry.
Freewheels are directional couplings, which mean that the drive member rotates the driven member in one direction, while automatically disengaging itself from the driven member when the direction of rotation is reversed.
Below are the 3 main types with a brief description of their employment:
Overrunning clutch: The Freewheel disengages automatically when the driven member rotates faster than the driving member.
Indexing clutch: The Freewheel allows the conversion of reciprocating motion into one directional movement.
Backstop: The Freewheel allows rotation in one direction only. It overruns continuously during operation. The Freewheel prevents reverse rotation if the drive is disconnected.
Please contact us with your Stieber Freewheel enquiries.
We supplyone way bearings from Stieber, GMN, Ringspan and more.
Freewheels, Sprags, Whatever you say; Bearings, Clutches they all go one way.
Indexing, Backstopping, Overrunning too.
Anti-running back - whatever they do.
Combidrive's experience will come to your aid;
With us on hand you've got it made.
Price and delivery without a fuss - This is the time to stick with us.
40 Years on the scene, it's what we know!
AUTOMATIC CENTRIFUGAL OVERSPEED BRAKE STOPS 'HAMSTERS' BEHAVING BADLY
The giant Hamster wheel pictured was designed for visitor participation.
However, unlike those little exercise machines for small furry animals, this wheel is connected to a bucket conveyor. Part of the chain is routed to allow buckets to be water filled, raised and then emptied, so providing a machine work load for energetic visitors.
Unfortunately, in some cases, over enthusiasm by individuals intent on driving the machine too fast, resulted in damage to the buckets and associated conveyor components. Also, it was felt that by exceeding a given wheel speed, significant injury might result following a person falling within the wheel.
Combidrive supplied an automatic centrifugal over speed brake to take care of this without the need of external and/or electrical power. Working back from a maximum wheel speed of 10 rpm (i.e. 6 seconds per revolution) Combidrive supplied a two stage speed increaser, gearbox and coupled it to a Suco centrifugal brake.
Now it's a change from going to the gym!
Happy 80th anniversary to Suco, manufacturer of centrifugal clutches and brakes, Combidirve Ltd has been the sole UK distributor for 40 years!
For enquiries and information on Suco products please follow the link below.
Centrifugal clutch designed to deal with torsional vibration: 8th November, 2018
Most of us will know when we are alongside a diesel truck when everything is rattling as we wait for the lights to change.
Very high cylinder pressure with each power stroke from every piston can produce torque "spikes" as high as 7 times the nominal torque from the engine.
Such 'roughness' from the diesel engine compared to a petrol engine where torsional vibrations are of a much lower level, must be absorbed by the subsequent transmission components.
The Suco P type clutch embodies rubber bushes in the 3 asymmetric shoes, this design enables the clutch to absorb such torsional vibration to give quiet running and long service life.
FLEXIBLE CENTRIFUGAL CLUTCH: 4th June, 2018
Combidrive combine centrifugal clutches from Suco with flexible couplings from Centaflex. This example enables two coaxial shafts to be connected via a torsionally soft flexible coupling. The centrifugal clutch allows engine start without load. Increasing the engine speed allows the centrifugal clutch to automatically engage and drive the machine.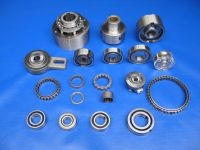 STIEBER FREEWHEELS FROM COMBIDRIVE: 10th January, 2018
ONE WAY CLUTCHES AND FREEWHEELS FROM COMBIDRIVE.
Combidrive Ltd. was formed in 1975. We have extensive experience and knowledge in the application of Freewheels and One Way Clutches from Stieber.
"Freewheels are directional couplings, which means that the driving member rotates the driven member in one direction, while automatically disengaging itself from the driven member when the direction of rotation is reversed."
Freewheels from Steiber may be employed as: Overrunning clutches, Indexing Clutches or Backstops.Please contact us at
sales@combidrive.com
with your enquiry.
SUCO ELECTROMAGNETIC CLUTCHES AND BRAKES FROM COMBIDRIVE: 4th January, 2018
Electromagnetic clutches and brakes from Suco are, among other things, notable for straightforward design and ease of installation.
If the Suco clutches and brakes are correctly selected, they are trouble free, extremely reliable and require no maintenance. They are dry running clutches and in order for them to operate correctly, grease and oil must be kept away from their friction surfaces.
Among many other applications, Suco Electromagnetic clutches and brakes are used in construction machines, agricultural machinery, machine tools, pumps and compressors, belt conveyors and cleaning machines.
Due to their simple, modular design, electromagnetic clutches and brakes from Suco are easy to select. Please contact us at Combidrive with your enquiry.
SUCO CENTRIFUGAL CLUTCHES AND BRAKES FROM COMBIDRIVE: 2nd January, 2018
There are four basic centrifugal clutch and brake design options available from Suco.
The "F" type (self increasing clutch).
This compact and self increasing clutch allows the transmission of high torques whilst needing little space. The profiled hub has a special form which causes a wedging effect between the profile and the flyweights when torque is applied to the clutch. This results in an additional force on the linings and allows higher torque to be transmitted. The tension springs and linings are easily accessible for replacement.
The "S" type (Pin-guided clutch with 3 flyweights)
In contrast to the F-type clutches, the linings of pin-guided clutches are permanently bonded to the flyweights instead of being mounted on loose carriers. The guide pins of W-type clutches provide accurate guidance for the flyweights, which ensures quiet operation of the clutch.
The "W" type (pin-guided clutch with two flyweights)
The "W" type combines the advantages of the F-Type and S-Type centrifugal clutches and Brakes. The tension springs and linings are easily accessible for replacement if worn. As with the "S" type the guide pins provide accurate guidance for the flyweights, which ensures quiet operation of the clutch.
The "P" type (asymmetric pivot clutch)
This design is extremely narrow and the quietest running centrifugal clutch in the Suco range.
Click to edit text. What do visitors to your website need to know about you and your business?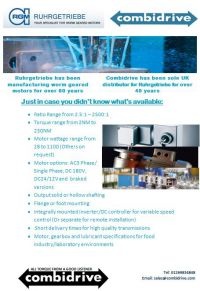 WORM GEARED MOTORS FROM RUHRGETRIEBE : 7th December, 2017
Existing customers using Ruhrgetriebe worm geared motors will be aware of the consistant high quality and so reliability of these motor gear units.
We at Combidrive, representing Ruhrgetriebe in the Uk, have pleasure in presenting the current scope and variation of these worm geared motors.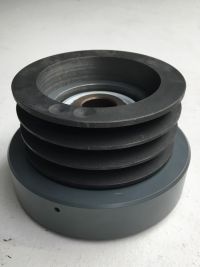 Suco Centrifugal Clutch application:
Photograph shows a Suco 2 shoe Centrifugal Clutch prepared to fit a 20Hp engine. The clutch allows the engine to be started without load and as the speed is increased the drive is smoothly imparted to the wood sawing machine via a 3xSPA pulley secured to the clutch by means of star toleranze ring which eliminates the need for keyways in the respective parts. This solution enables quick delivery of all components.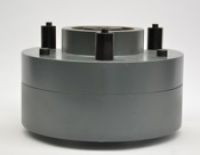 SUCO SMART STOP SAFETY BRAKE FOR SMALL WIND TURBINES:
The SUCO SMART STOP consists of 2 components, a centrifugal brake and a disc brake. Due to its small design the Suco Smart Stop can be adapted to fit in all different kinds of small windmills up to 10kw. These mainly domestic applications require a simple and affordable control to protect against overspeeding. As the centrifugal brake housing temperature increases the disc brake is applied, bringing the Smart Stop rotor to a complete standstill. After a while the disc brake is released automatically and the windmill starts again. In addition to the automatic operation the unit is relatively maintenance free. Please contact us for further information.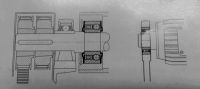 STRICTLY ONE WAY STIEBER CSK FREEWHEELS:
A CSK one way clutch or freewheel drives in one direction but not in the other. The freewheel in a bicycle lets you pedal up hill and "freewheel" down the other side. Inclined conveyors may employ a freewheel (back stop clutch) fitted to the head shaft so that in case of transmission failure the conveyor will not run back causing damage or injury. A rowing machine in a gym will have a CSK type freewheel (over run clutch) to allow the return stroke of the "oar" without resistance. Press feeds for punching, cropping and forming often employ freewheels (indexing clutch) to provide intermittent feed. Standby drives to operate when main power fails employ freewheels or centrifugal clutches as overrun clutches.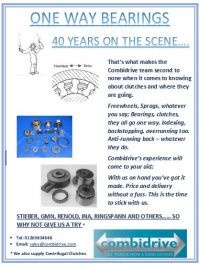 ONE WAY CLUTCHES AND FREEWHEELS FROM COMBIDRIVE :
Combidrive LTD formed in 1975, has extensive experience and knowledge in the application of One Way Clutches. Functioning as a back stop to prevent reverse rotation, to stop over running and indexing clutches.
Please see our latest promotion bulletin.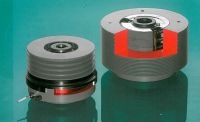 CENTRIGUFAL CLUTCHES AND BRAKES FROM SUCO :
CUSTOMIZED SOLUTIONS
Where the use of a standard version is not practical or the power capacity inadequate, one of their customer-specific designs can provide a solution. SUCO has many years' experience in this area.
In cooperation with the customer, their engineers study enquiries for their feasibility and produce a cost-effective solution. Every effort is made to ensure that the design of the product will comply with the customers' requirements and wishes.
The two examples that are shown are just a couple of the numerous ways of solving drive problems, using combinations of centrifugal clutches and brakes or electromagnetic clutches and brakes, that they can offer. They can form the basis for complete system solutions realised in combination with other drive components.
EXAMPLE ONE (LEFT DIAGRAM) – ELECTROMAGNETIC BRAKE IN COMBINATION WITH A CENTRIFUGAL BRAKE.
This version is used for lowering loads at a defined speed with no electric power applied (power failure in the system). In normal operation, the load is held by the electromagnetic brake. Power failure causes the electromagnetic brake to release. To prevent the uncontrolled brake operates to lower the load at a defined speed.
EXAMPLE TWO (RIGHT DIAGRAM) – CENTRIFUGAL CLUTCH WITH ELECTROMAGNETIC BRAKE AND BELT DRIVE.
In this case the centrifugal clutch us used to start a heavily loaded machine. This protects the drive, which accelerates at a no-load until the engagement speed is reached. Power is transmitted by V-belts. When the drive is switched off the electromganetic brake can be used to bring it to a standstill.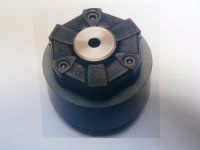 COMBINED CENTRIFUGAL CLUTCH AND FLEXIBLE COUPLING:
Most "Off the shelf" centrifugal clutches for low power applications are supplied with sprocket, vee belt pulley or timing pulley, according to Combidrive Limited. For the much smaller proportion of customers requiring an arrangement to couple two shafts coaxially, poor choice and availability may prove to be an obstacle, particularly where small quantities/prototypes are concerned. With this in mind Combidrive can now offer a combined centrifugal clutch and flexible coupling as a single unit, but comprising two standard components. The clutch (with vee belt pulley included) has a capacity of up to c 8HP at 3500rpm and can be supplied with a bore of up to 22mm, whilst the flexible coupling

WHAT ARE THE KEY CRITERIA WHEN SELECTING AND DESIGNING A CENTRIFUGAL CLUTCH / BRAKE: :
Performance data:
- The power which needs to be transmitted (KW)
- Engagement speed [rpm]
- Operating speed [rpm]
- The max. allowable size – by knowing the max. size and power, the most suitable clutch model can be chosen, as all models do have a different performance factor.
Additional required information for centrifugal brakes:
- Load in kg
- Max. braking time and braking frequency
Design and dimensions:
Input designs:
- Shaft diameter
Output designs:
There are different output designs possible. So, we need to know if you use
- Only core version
- Flex coupling
- Belt pulley design
- Ball bearings or not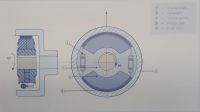 SUCO CENTRIFUGAL CLUTCHES AND BRAKES FROM COMBIDRIVE :
How do centrifugal clutches and brakes work?
Centrifugal clutches and brakes use centrifugal forces to transmit power (clutch) or to limit speed (brake). As the brakes are based on a physical principle, centrifugal clutches or brakes do not require any additional external power supply, which makes them perfect solution for safety applications.
Centrifugal clutches and brakes consist of a driving shaft (point one on the image). Around the driving shaft, there are flyweights (point two) mounted, which are kept on the shaft by springs (point 3). On the outer side of the flyweights there are friction pads (point four).
Point one - when the driving shaft starts turning, the flyweights and the friction pads are kept together by the retaining forces of the springs.
Point two – at the predefined speed (engagement speed), the centrifugal forces overcome the retaining forces of the springs and the friction pads do contact the outer drum (point five).
Point three – the friction pads begin to transmit power to the drum, but will show a slipping effect until the speed is further increased to the operating speed, which means a non-torque transmission.
Based on long experience and knowhow, SUCO designs the clutched with a safety factor, which guarantees that the transmissible torque at the operating speed is higher than necessary. This ensures a slip free application and thus, reduces wear and service requirements.
STIEBER FREEWHEEL DESIGNS FROM COMBIDRIVE.:
There a basically 2 basic design versions in the freewheel (one way clutch) options. The Roller type feature a cylindrical outer race and inner race consisting of ramps on which the rollers are located. Springs and plungers ensure a permanent contact between the different elements for an instant torque transmissions. This rugged, reliable versatile design can be used as an overrunning clutch, indexing clutch or backstop. Worth noting: Stronger springs can be fitted to maximise accuracy in indexing applications.
The other design is the Sprag one. This type has 2 cylindrical races. The sprags (dogs) fitted into a cage feature an active profile that ensures engagement or disengagement according to the relative motion of the races. It is possible to adapt the design of sprags and cage to get significantly different characteristics from one model to another.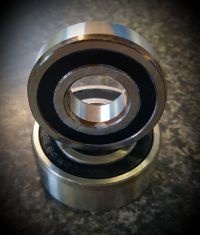 STIEBER CSK FREEWHEELS FROM COMBIDRIVE:
Type CSK is a sprag type freewheel integrated into a 62-series ball bearing (except sizes 8 and 40). It is a bearing supported, delivered grease lubricated and protected against dust of more than 0.3mm. The use of additional "nylos" type seals is recommended especially when the working temperature exceeds 50*C. Oil bath lubrication is also possible if the original grease is first flushed out using a suitable solvent.
Torque transmission is ensured by a press fit assembly into a rigid outer housing with N6 tolerance and onto a shaft with n6 tolerance. The initial bearing radial clearance is set at C5, and is reduced if using the press fit as specified. One race may be glued. If both races are glued, performance will be reduced or a C3 bearing clearance will be necessary.
Operating temperature range: -20*C to +100*C. Peaks of up to +120*C are acceptable for short periods of time. Please contact us for higher temperatures. Also available with rubber seals (2RS). CSK..2RS is a 5mm wider but is equipped with lip seals to be water splash resistant.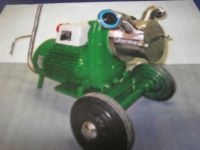 BOCKWOLDT GEARED MOTOR WITH DIRECT MOUNTED PUMP FOR USE IN WINERY:
The portable pump set comprises a 2 speed 3 phase motor driving the pump wia a helical reducer from Bockwoldt. This is an interesting application of what is termed a shaft mount transmission. In this case the "shaft mount" achieves a compact design and renders the pump part readily accessible, by raising its height. Shaft mount geared motors and speed reducers from Bockwoldt range from 120watt to 55kw. Output speed as low as .5rpm are available and overload protection and backstop control can be incorporated.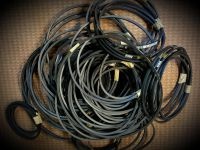 V BELTS :
Here at Combidrive we stock a wide range of V Belts that are used on a wide variety of ride on and push lawnmowers. We also supply for machinery used in the construction industry and in agricultural applications. We stock standard Z, A and B v belts from sizes 20" through to 100". Other less common sizes available next day along with AA belts, poly vee, toothed or timing and Kevlar. If you have equipment that requires several of the same belt to run together, we always recommend that all are replaced at the same time from the same manufacturer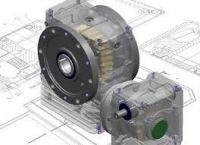 ZAE GEAR UNITS :
ZAE gear units are universally installable high-performance gear units which satisfy the quality requirements of ISO 9000. All ZAE standard units are designed as gear motors and as gear units. Worm gear units, bevel gear units and worm spur units are available with exposed input shaft or made suitable for mounting an IEC motor. Helical worm gear units are also available with exposed input shaft and as a gear motor. For especially low speeds, the modular system design allows units to be combined at any time into double gear units or as necessary into double gear motors.
Available gear unit's variants are foot-mounted, flange-mounted (not bevel gear units) and hollow shaft designs with and without torque brackets. Shaft mounted units with hollow shafts are available either with feather key or shrink-on disk connection (not bevel gear units). All worm gear unit variants, up to size 125, can be fitted upon request with an integrated safety slip clutch.
ZAE gear motors are available in many design variants. Besides standard motors, there are brake motors, motors with separately driven fan or thermal sensors, to name only a few examples which are available upon request. If installing "increased safety" motors EExeII and "flameproof enclosures" motors EExdII, then please contact us at Combidrive with your enquiries.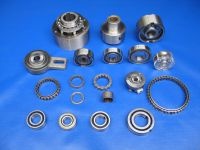 FREEWHEELS FROM STIEBER:
Freewheels are directional couplings, which mean that the driving member rotates the driven member in one direction, while automatically disengaging itself from the driven member when the direction of rotation is reversed.
Below are the 3 main types with a brief description of their employment:
Overrunning clutch: The Freewheel disengages automatically when the driven member rotates faster than the driving member.
Indexing clutch: The Freewheel allows the conversion of reciprocating motion into rotational movement.
Backstop: The Freewheel allows rotation in one direction only. It overruns continuously during operation. The freewheel prevents reverse rotation if the drive is disconnected.
Please contact us with your Stieber freewheel enquiries.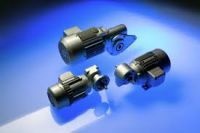 RUHRGETRIEBE WORM GEARS :
Ruhrgetriebe mounted worm gears are suitable for both rotation directions, Ruhrgetriebe units have a sealed and robust casing and the streel worms are hardened and polished. The worm-wheels are made with high quality special bronze which have the best gliding properties. Ruhrgetriebe's use of denticulation pairs in combination with the proper lubricating fats and oils, which are mineral and synthetic, guarantees a low noise emission and high service life for the Ruhrgetriebe gear. In most cases with these gears a regressing and a change of lubricant is not necessary. This means that Ruhrgetriebe gears are suitable for low-maintenance applications.
The majority of Ruhrgetriebe gears have ball bearings, these are dimensioned to provide a greater than average service life for continuous operations and in every fitting position. The smaller Ruhrgetriebe gears are completely oil and dust proof. The larger gears are designed with ventilation. Before the start of the operational use the sealing screw which can be found at the highest point, must be exchanged with a supplied ventilation screw.
The maximum permissible torque of a Ruhgetriebe worm gear is 5 to 230Nm, (Newton Meter) depending on the type and the level of the reduction, this figure provides information and the maximum torque loading acting on the drive shaft. Additionally, the effective torque is given which depends on the motor power, motor speed, lubrication and efficiency of the individual Ruhgetriebe gear reductions.
Contact us at Combidrive with your Ruhrgetriebe enquiries.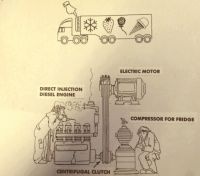 CENTRIFUGAL CLUTCH IN REFRIGERATED TRANSPORT:
A centrifugal clutch fitted between engine and fridge compressor enable the engine to start under no load and smoothly engage to drive the compressor as the engine speed increases. A belt and pulley drive connected to an electric motor allows the alternative to have the electric motor driving the compressor instead of the diesel engine, for example on board a ferry or in a residential area overnight. It is a good example of a hybrid transmission where two or more power sources can be engaged automatically. When such diesel engines drive at low speeds special centrifugal clutch designs may be required to accommodate significant torsional vibrations resulting in the transmission. Please contact us with your centrifugal clutch requirements.
COMBIDRIVE LTD - WE CAN DO IT!:
Here we have the young Combidrive MD. Nothings changed (apart from the hair style maybe)! Combidrive started trading in 1975...and WE ARE STILL DOING IT!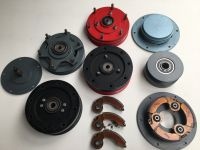 SURPLUS REFRIGERATION CLUTCHES ON SALE:
Refrigeration clutches for Carrier and Thermo King refrigerated trucks and trailers. Prices to clear surplus stock. Please contact us for further stock and price availability.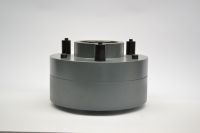 SUCO AUTOMATIC BRAKE GIVES OVERSPEED PROTECTION FOR SMALL WIND GENERATORS/TURBINES.:
Up to 10kw wind generators mainly for domestic locations need a simple, reliable and affordable control to prevent damage through turbine overspeeding.
Suco combine a centrifugal brake with a disc brake. This combination with associated sensor and actuator components first recognises wind turbine overspeed through a temperature rise from the centrifugal brake part. As soon as a set temperature is reached, a disc brake is applied to bring the wind generator to a stand still.
After a controlled period of time the disc brake releases and the wind generator resumes normal operation. This cycle may be repeated frequently if wind speeds are excessive. The system is completely automatic without remote control, compact and can be set to control rotor speeds between 150 and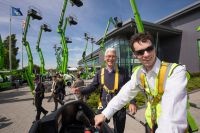 ONWARDS AND UPWARDS:
In 2001 the company Niftylift asked Combidrive to look at a requirement for a clutch/coupling solution to, automatically, enable their diesel/electric dual drive systems to "cohabit" reliably and with minimal noise as part of the innovative Hybrid power system Niftylift was developing. After several years of discussion and testing prototypes, appropriate Suco clutch/coupling designs were established.
The clutch enable certain Niftylift access platforms to be used under diesel or electric power according to circumstances (e.g. diesel outside, electric inside a building).
Recently Combidrive's MD, Edwin Shackleton-Jones attended a suppliers open day at Niftylift in Milton Keynes and ended up at the controls of Niftylift's hybrid model HR28 with a 28 metre lift height (pictured). He was however, under the watchful eye of "David", one of Niftylifts's demonstrator engineers.
Combidrive has been the Uk distributor for the clutch manufacturers Suco, since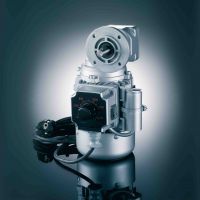 RUHRGETRIEBE KG - FRACTIONAL HP WORM GEARED MOTORS - A FAMILY RUN BUSINESS.:
Combidrive Ltd has represented RUHRGETRIEBE KG since 1975 as the sole UK distributor for RUHRGETRIEBE'S range of fractional hp worm geared transmission. Motors available are AC or DC.
RUHRGETRIEBE have maintained their position in the market place for manufacturing industrially rated, high quality geared motors with a reputation for reliability. Fast deliveries (eg next day) can be normally effected in most cases that require rapid response.
Image may contain: camera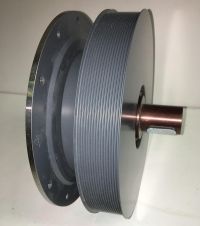 SPECIAL CENTRIFUGAL CLUTCH:
This clutch from Combidrive allows automatic distribution of power to two different transmissions according to engine speed.
The clutch is flange mounted to the flywheel of a 4 cylinder, 25kw diesel engine and the clutch works as follows:
1) The engine start and idle gives permanent drive to PTO shaft at all speeds (right side).
2) No drive is imparted to poly-vee pulley until engine speed exceeds 2300rpm.
3) At speeds above 2300 to say 3000rpm drive is available from PTO shaft and poly-vee pulley.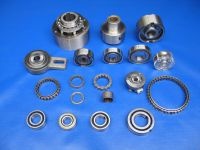 ONE WAY CLUTCHES - FREEWHEELS - SPRAG ASSEMBLIES FROM COMBIDRIVE:
Combidrive Ltd have in stock a range of one way bearings, freewheels and sprag assemblies. Our range of freewheeling clutches includes the "GV" series for backstopping or indexing. The one way ball bearing type conforms generally to the dimensions of the "62" metric general purpose series but are available sealed and keywayed if required. In addition our sprag assemblies can be supplied as a replacement part or as a component to be incorporated in a new design. Please call us for more details of our range or visit our website www.combidrive.com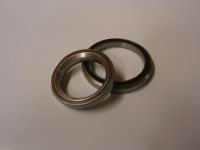 HEADSET BEARINGS FOR ROAD AND MOUNTAIN BIKES:
Combidrive Ltd are now stocking a selection of headset bearings for road and mountain bikes. Prices starting from only £10.95 each. Other sizes are available on request. Please contact us with your requirements.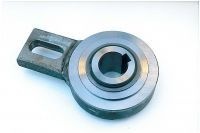 One Way Clutch Torque:
Freewheels, one way clutches, backstops, overrunning clutches, sprags - whatever you call them, these mechanisms fulfil at least one of three functions in any application:
1) To index or drive a shaft forward from a reciprocating movement (e.g. rowing machine, press feed for a punching machine or stamping machine)
2) To prevent a shaft being driven backwards (e.g. inclined conveyor for safety, turnstile control)
3) To allow a shaft to 'overrun' the speed of another when conditions prevail (e.g. engine starter mechanism, standby/two speed drive systems)
The clutch pictured is built with an integral torque arm to facilitate fitting as a backstop as a safety feature on inclined elevators. In the event of power failure/chain breakage the elevators will not run backwards causing further damage/injury.Freewheels, one way clutches, backstops, overrunning clutches, sprags - whatever you call them, these mechanisms fulfil at least one of three functions in any application:
1) To index or drive a shaft forward from a reciprocating movement (e.g. rowing machine, press feed for a punching machine or stamping machine)
2) To prevent a shaft being driven backwards (e.g. inclined conveyor for safety, turnstile control)
3) To allow a shaft to 'overrun' the speed of another when conditions prevail (e.g. engine starter mechanism, standby/two speed drive systems)
The clutch pictured is built with an integral torque arm to facilitate fitting as a backstop as a safety feature on inclined elevators. In the event of power failure/chain breakage the elevators will not run backwards causing further damage/injury.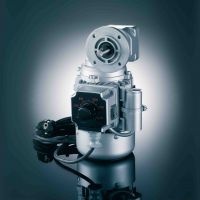 RUHRGETRIEBE VARIABLE SPEED SINGLE PHASE MOTOR WITH WORM GEAR:
New to Ruhrgetriebe product range of worm drive motors: their variable speed, single phase motor with worm gear.
Designed for simple engine speed regulation, this motor is not only an inexpensive alternative, but also suitable for a multitude of applications. The rated voltage is 230 V AC, the rated current 1.0 A, and the rated output 90 watt. The protection category is IP54. The drive models SN4, SN5, SN12 and SN18 can be mounted onto this size 56 motor. A torque output measuring between 6 and 25 Nm as well as various designs and speed reductions make this Ruhrgetriebe drive suitable for many different areas of application.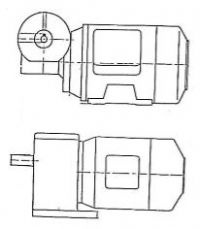 FRACTIONAL HP WORM GEARED MOTORS :
Available with 3 phase AC, DC or single phase motors and in foot, flange and hollow shaft form. Speed down to .9RPM. Over 1000 specifications to choose from.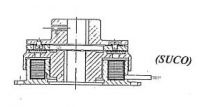 ELECTRO MAGNETIC CLUTCHES/BRAKES:
Supplying an electric current (DC) locks the input to the output to drive via friction surface. When the output is locked stationary the device functions as a brake.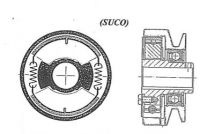 CENTRIFUGAL CLUTCHES/BRAKES :
Controlled by speed, flyweights with friction surfaces are thrown outwards by centrifugal force where they bear on a machined housing imparting drive to the machine, automatically each time they speed is increased from zero. Where the housing is fixed against rotation the mechanism works to control overspeed or ad an automatic brake.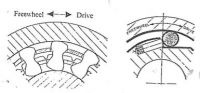 FREEWHEEL CLUTCHES :
Freewheels, one way clutches, sprags, anti runbacks or even overrun clutches, whatever you want to call them, they all do the same thing. Freewheels drive one way and freewheel the other or they only allow motion one way and not the other way.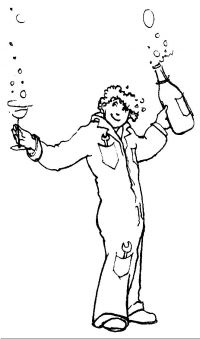 ALL TORQUE FROM A GOOD LISTENER :
Here at Combidrive we are your partners for;
Stieber type trapped roller and sprag freewheeling clutches.
Centrifugal clutches for industry, agricultural and leisure.
Mechanical variable speed drives up to 150hp.
Fractional hp geared motors - A.C. and D.C.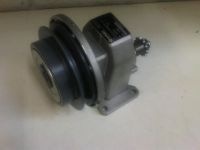 SUCO CENTRIFUGAL BRAKE LIMITS OVERSPEED:
Centrifugal brakes or overspeed brakes are employed in a wide variety of applications including:
Controlled descent of personnel from buildings in an emergency, overspeed brake control of wind generators to prevent structural damage, automatic control of vehicles down slopes (eg. lifeboat launching), automatic descent control of service platforms and overspeed control of revolving/sliding doors.
The photograph shows an overspeed brake connected to a single stage speed increaser gearbox. The source speed of c.200rpm was too low to allow a cost effective centrifugal brake solution so the speed is increased through the gearbox to c.1400rpm (1:7 ratio).
ROLLER OR SPRAG IN ONE WAY CLUTCHES :
Combidrive Ltd supply both Roller and Sprag One Way Clutches (Freewheels)
STIEBER TYPE ROLLER DESIGN - A number of roller elements are trapped between a cylindrical outer right and a hub or starwheel which has a flat platform for each roller. A spring and a plunger holds the roller in position. Rotation in one direction immediately traps the roller between starwheel and ring and in the other direction the roller is relaxed to allow freewheeling.
SPRAG TYPE - Two concentric cages with holes punched in them contain sprag locking elements. A ribbon spring situated between the cages energises each sprag. When placed between two cylindrical races the assembly allows freewheel in one direction and in the other locks up.
ONE WAY CLUTCHES - These fulfill one or more of the following functions in any one of the following applications;-
Indexing- Imparting an intermittent feed from a reciprocating source e.g a press feed mechanism, conveyor drive or packing machine feed system.
Backstopping - Allowing a shift to rotate in one direction only, but preventing reverse rotation for safety and/or control of the machine. Frequently used in conjunction with an indexing clutch or to control reversal in pump drives or inclined conveyors.
Overrunning - Allowing one part of the machine to continue rotating whilst another part is held stationary or allowed to run at a lower speed, as in the case of inching drives, two speed drives or starter motor drives.
OVERALL BORE RANGE 4MM-150MM AND OVERALL TORQUE RANGE 1 NM-23,000 NM.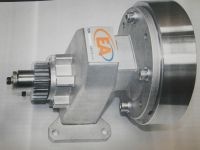 SUCO CENTRIFUGAL BRAKE CONTROLS OVERSPEED ON MANUAL REVOLVING DOOR.:
An automatic braking system which is not dependant on external power and which is smooth in operation is offered by our customer EA Group. The automatic braking transmission prevents overspeeding of revolving doors which could be the result of wind effects and/or misuse by individuals resulting in speeds in excess of c.12 rpm for example.
The braking system comprises a single stage helical speed increaser (available in ratio up to 1:7.46) directly coupled to a Suco 3 shoe centrifugal brake hub. Our customer has fitted an appropriate brake housing and the whole unit is foot mounted from the gearbox.
To achieve an appropriate transmission the 12 rpm door speed is increased by an "open" gear set of 1:5.41 and in conjunction with the speed increaser ratio of 1:7.46 the resultant brake shaft speed becomes approximately 484 rpm (Combidrive advised that this would be around the minimum speed that a centrifugal brake could be embodied cost effectively).
EA Group decided on brake engagement starting at c.300 rpm. Our customer found the transmission to be quiet and smooth in operation, in addition to including this in their own door product they suggest that it can be applicable to other door products (new or retro fitted).
Photos/drawings with kind permission of EA Group. Patent applied for by EA Group.
VARIABLE SPEED GEARED MOTORS - NEW FROM RUHRGETRIEBE:
New to the RUHRGETRIEBE product range of worm drives is an infinitely variable single phase motor which includes an integral inverter with speed control (pictured).
Designed for quick and easy incorporation, the supply required is 230volts AC with 1amp capacity for the 90watt motor. Standard protection is IP54 and torque output according to gear head vary between 6 and 25 Nm.
This transmission lends itself to applications where the complete variable speed transmission can be built in to a machine without the extra expense of wiring. All axles are ball bearing supported. The wheels are made from special bronze alloy and the steel worms hardened and ground. The gear case is charged with a permanent lubrication on delivery and all are industrially rated.
Please contact us at Combidrive for more information from the RUHRETRIEBE product range of geared motors.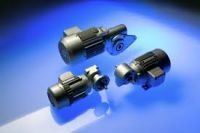 RUHRGETRIEBE'S IE2 MOTORS:
Although to date there is no directive to produce motors conforming to IE2 powers under 0.75kw, Ruhrgetriebe have been producing worm geared motors from 0.09kw in this energy efficient motor class since 2011.
Ruhrgetriebe reflects its own business philosophy regarding speed and quality of service, because under optimal conditions the various versions of the "Made in Mulheim" high-efficiency drives are delivered within 48 hours.
"PLUG IN" BRAKES MEAN STANDARD MOTORS:
Centrifugal brakes incorporated in transmissions automatically prevent shaft overspeeding for reasons of safety or machine damage. (e.g. lifeboat winches, windmills, platform lift systems)
Such brakes are often fitted to the non driving end of the electric motor by extending the shaft. This approach however does result in a 'special' which can affect motor availability, price and pose a problem at a later date when a replacement maybe urgently required.
Combidrive can now offer a range of brakes in modular form prepared to fit between a standard metric motor and the gearbox.
The assembly comprises the brake hub with friction lined flyweights constrained by springs which dictate the engagement speed (e.g. c. 250 rpm above motor driving speed) The hub accepts the motor shaft on one side and engages with the input to the gearbox on the other. The flanged housing maintains concentricity and squareness to the associated components and is prepared to absorb and dissipate the heat produced during braking.
At present modular brake assemblies can be delivered to suit standard metric motors in frame sizes 71, 80/90, 100/112, and 132. Hub bore/shaft range is 12mm to 65mm..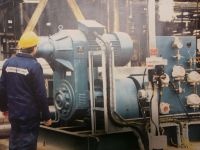 BOCKWOLDT GEARED MOTORS:
Helical and worm geared transmissions from BOCKWOLDT are available with hollow output shaft, backstop, electromagnetic and centrifugal brakes. Right angle output configurations are achieved by worm and wheel and helical bevel designs. Available with two speed motors or mechanical variable speed drive up to 75kw.
Email sales@combidrive.com with your enquiries.