Freewheels, sprags, one way clutches, backstops, overrun clutches, whatever you call them they function in one of three ways:- to stop a shaft running in reverse, to allow a shaft to run faster, or to index a shaft.
The Combidrive team includes staff who worked with STEIBER companies since 1968. Competence in a product depends on experience.
Regardless of the clutch manufacturer whether it be STEIBER, RINGSPANN, GMN or RENOLD, customer enquiries cannot be dealt with promply and confidently without the experienced personnel at Combidrive.
"Freewheels are directional couplings, which means that the driving member rotates the driven member in one direction, while automatically disengaging itself from the driven member when the direction of rotation is reversed."
Freewheels from Steiber, GMN, Ringspann and Renold may be employed as:
Overrunning clutches, Indexing Clutches or Backstops.
Some of the more common applications include:
Packaging machines
Conveyors
Two speed drives
Press feeds
Exercise machines
Turnstiles
Automatic transmissions
Agricultural machinery
Hybrid vehicles
Combidrive offers Freewheels and One Way Clutches from Steiber, GMN, Ringspann and Renold. Please contact us below with your enquiry.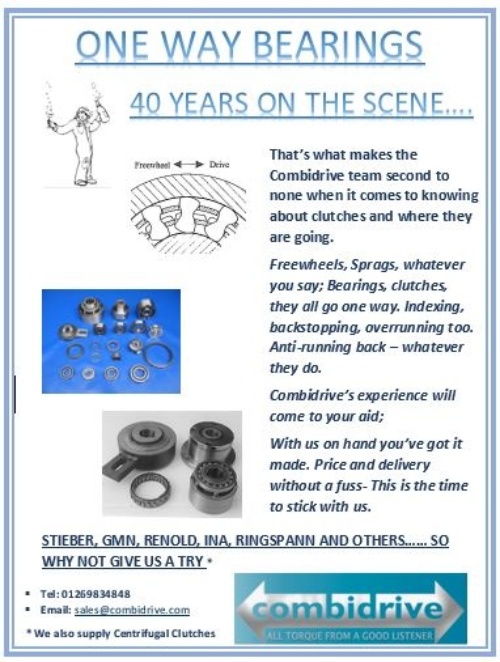 Geared motor - Freewheel prevents run back through wrong connection of motor.
Inclined conveyor - Freewheels prevents run back through power / transmission failure.
Packaging machine - Freewheel holds flap in position caused by obstruction.
Must be reset though 360 degrees by operator after obstruction is cleared.
Standby drive - Electrical power failure allows petrol engine to drive without being driven over when electric motor is normally driving.